It almost happened. Karma almost came back to bite us, but it didn't.
As I mentioned before the game, I was nervous that there'd be some sort of retribution from last year's goal line fumble. The refs tried SO hard. So so hard. But in the end, it played out alright, I'd say.
It was apparently very cold.
It's snowing like mad, cold as hell, and these Penn State fans don't care.

— Lanny Holstein (@937Lanny) November 23, 2013
Are you SURE about that Lanny?
For how cold it is you better win Penn State! #letsgostate

— Chris McDonald (@mctothedonald) November 23, 2013
Someone won't be happy.
If you weren't at the Penn State game or standing or doing something all day outside. I don't wanna hear anything about how cold you are.

— Cassssidy ∞ (@Cassidy_Dillman) November 24, 2013
To say it was cold at the Penn State game would've been a disservice to the word cold #popsicle

— Jayuey' (@CPhock3y) November 24, 2013
If Bill Belton on Penn State is too sick to play, why is he out in the freezing cold on the sidelines?

— Joshua Bull (@LiLJoshie97) November 23, 2013
"But MOOOM, all the other kids get to go to the game!"
If these guys can do it, so can Bill.
(As of publication, these two were still trying to unfurl their testes, lodged firmly between their livers and spleens.)
Tyler and I were stuck in the cold at Penn State for two hours after the game was over. Worst. Night. Of. My. Life.

— Abigail Flanagan (@bigail_flanagan) November 24, 2013
it's fuckin cold here in Happy Valley #WeAre #PennState

— jake kleckner (@kleck_nerd) November 23, 2013
Its so cold outside Penn State fans have to remind themselves who they are by chanting "we are penn state"

— Bryan Stinson (@TheBryMan15) November 23, 2013
This Penn State game is so cold there are literally girls sitting on the ground in the bathroom trying to get warm.

— R. (@REPorter_field) November 23, 2013
I guess there are worse places to be…
I'd rather take a shower at Penn State, than be a Nebraska fan… #SorryNotSorry #GoPenn

— Hannah Cowan (@Cowan4President) November 23, 2013
You'll never be president with a mouth like that, young lady!
Nebraska is going to absolutely murder Penn State, this isn't going to be a game at all.

— Lord Farquaad (@matt_hunt10) November 23, 2013
Way to jinx it.
C'mon @PennStateFball beat the CORN. #PennState #Nebraska

— elucas (@elucas25) November 23, 2013
"Yeah, GO NITT! BEAT CORN." I'd rather eat corn.
It's games like this, when it's cold and windy apparently, that something very little can have a sweeping impact on the game later. In this case…
A great PSU drive marred by missed PAT from Kickin Ficken. 😐

— Ian Patrick (@NittLion78) November 23, 2013
Sam Ficken looks like himself last year. He just missed a PAT.

— Phillippi (@BenPhillippi) November 23, 2013
Ficken's always there to fuck up the good vibe.

— Coty Andrew (@seewertz03) November 23, 2013
Sam Ficken is such a loser

— Daniel Belk (@lieutenantdan6) November 23, 2013
Sam Ficken is a loser and I have never liked him

— Evan (@cryingeaglesfan) November 24, 2013
Hipster hate! Hating before it was cool to hate.
Sam Ficken, you asshole.

— Mike Amann (@MikeAmann) November 23, 2013
I really, really hope this game doesn't come down to Ficken's missed PAT.

— Kara Stoley (@KStole) November 23, 2013
You should have maybe hoped harder.
Easy to say, but this is the type of game when a missed pat could be huge down the road. #Huskers

— Grant Muessel (@GrantMuessel) November 23, 2013
Of course, the game did come down to that goal post, but not without some drama.
There was Quincy Enunwa's touchdown catch that made everyone go "fuck yeah."
INSTANT HIGHLIGHT: Quincy Enunwa … touchdown! #orvillemoment #Huskers @Huskers WATCH – http://t.co/wDuRDSzMGS

— BTN_Nebraska (@BTN_Nebraska) November 23, 2013
Kellogg connects with Quincy Enunwa for the 27-yard touchdown. Huskers tie Penn State

— DN Sports (@dnsports) November 23, 2013
And then takes the lead with a made PAT. LOL.
Then Nebraska did something that we NEVER see. A BLOCKED PUNT.
NEBRASKA BLOCKED A PUNT!

— Keith Yaple (@knig810) November 23, 2013
Nebraska blocked a punt. Shut the front door #WHAT?

— Austin Kaczor (@AjKaczor) November 23, 2013
Thats the first blocked punt for Nebraska that I think ive ever seen

— Justin Cameron (@NebFootball13) November 23, 2013
See. You didn't believe me, but I told you!
Of course, it took the punter dropping the snap to get us out there, but hey…I'll take it.
Butterworth? MORE LIKE BUTTERFINGERS!! Blocked punt for the #Huskers!!

— brian kalisch (@b5alive) November 23, 2013
Butterworth, more like Butterfinger #AmIRight ?

— JGC (@GordosWisdom) November 23, 2013
Butterworth?? More like Butterfingers!! The Big Red thanks you.

— Ashley Smoot (@HuskerGirl1986) November 23, 2013
Do I have to say it?…. Butterworth has butterfingers. There.

— Password is Taco (@Fruity_Bebbles) November 23, 2013
Butterworth = Butterfingers

— Christy ❤ (@58_christy_87) November 23, 2013
Dare I say butterfingers by Butterworth? I'm sorry….. #shameless

— Chad Mustard (@oldmud40) November 23, 2013
You should be sorry. you should ALL be ashamed of yourselves. There was an immeasurable amount of tweets that followed that same format.
How about ButterWORTHLESS?! Eh, eh.
HAHAHA ButterWORTHLESS

— Blackshirt Freshman (@BlackshirtFresh) November 23, 2013
(I'm really sad that didn't get more love during the game. I thought I was so clever.)
Sadly, after coming up with some stellar field position, Ameer Abdullah fumbled. We got bit by the fumblebug.
Que ameer fumble come on D

— Kyle Dunbar ♠ (@Kdun_17) November 23, 2013
Cue* – Ain't nobody got time to translate your spanglish!
Ameer Abdullah fumble again? He's got to work on that. Clearly a prob.

— Michael Cronin (@TMichaelCronin) November 23, 2013
That was Abdullah's first fumble since the Minnesota game. Fourth of the season (all recovered by the opponent). Too many, obviously

— Jon Nyatawa (@JonNyatawa) November 23, 2013
Major debate right now internally as to whom I blame for Ameer's fumble… Bo or Taylor…. #Huskers

— Nick Gregath (@NickESPN1480) November 23, 2013
Abdullah fumble, has to be bo's fault, yea @dirkchatelain?

— Blake Maaske (@BlakeMaaske) November 23, 2013
Thanks a lot BOBAMA.
So instead of a 14-6 lead (AHAHA MISSED PAT) at halftime, Nebraska went in only up 7-6.
So some shit happened, Penn State scored…AND THEN KENNY HAPPENED.
@espn #SCtop10 Kenny bell 98 yard touchdown return!! #huskers

— Josh Malcolm (@PunkRockSensei) November 23, 2013
99*
*sits down to retry watching Husker game* "Kenny Bell with a kick return touchdown!" *reaches into potato chip bag and gets comfortable*

— Taylor Jones (@Jonesandwhatnot) November 23, 2013
Atta kid.
@AFRO_THUNDER80 I don't know what's more sexy your fro or that kick off return

— Shane (@babySHANE402) November 23, 2013
@AFRO_THUNDER80 ridiculous effort today! Your fro was flowing as u broke the sound barrier going a hundy!!! Take out Iowa&finish strong!

— Doc O (@drashly) November 24, 2013
WHOA. Lot going on there.
"Catching Fire" was so good, guys. I'm not even upset I missed a Kenny Bell 99-yd kickoff return TD while seeing it. #delayedtweet

— Rachel Lux (@rachellux) November 24, 2013
OH FOR FUCK'S SAKE. CAN YOU PEOPLE GET ANY WORSE?
I shouldn't have asked…
Aside from Kenny Bell's kick return, he hasn't done anything all year worthy of remembering.

— Nate Colby (@NateCGreene) November 23, 2013
You're welcome, asshat. Keep in mind that shush there at the end. It comes back into play later.
Besides, he had the best photo of the day.
STARE AT IT STARE AT IT STARE AT IT.
*FAINTS*
More stuff happened, and then the CALL happened. With Nebraska down 20-17, Ameer tore off a touchdown run to only have it called back after a phantom penalty call. OMG it's the karma.
A 50+ touchdown run Ameer Abdullah is negated by personal foul penalty. Penalty occured at the 12 yard line. Ball is spotted at the 27

— State College's ESPN (@ESPNRadio1450) November 23, 2013
And can someone explain the penalty on what should have been the Ameer touchdown please?

— Fake Kev (@FakeKevinKugler) November 24, 2013
What a bullshit penalty that was that wiped out Ameer's touchdown. Wish Bo would've punched that old ass ref right in his dog face!!

— Casey White (@CaseyWhite4) November 24, 2013
OOO Dog face. Shots fired!
One of the worst personal foul calls in NCAA history in the Nebraska/Penn State game calls back a touchdown

— Drew VW (@TheDrewsus) November 23, 2013
@B1Gfootball Penn St. vs Nebraska personal foul block on go ahead touchdown. Really? Makes that crew look either incompetent or corrupt.

— Kerby Ham (@KerbyHam) November 24, 2013
15 yard penalty on Nebraska for legally blocking a Penn State player and scoring a touchdown

— Jared (@jaredthecook) November 23, 2013
"@Huskers: 62-yard touchdown run by Abdullah negated by a personal foul. #Huskers" Worst call of my life! Fuck you refs! — Mikayla Schumacher❤ (@micky_kayla_) November 23, 2013
"Wait Nebraska just scored a touchdown for the lead? We better throw a crap flag on that one"

— Ethan Kerr (@EKerr11) November 23, 2013
*SIGH*
The refs just can't make it easy. After my careful and expert review, I determined that the penalty was a bit of BS. Sam Burtch made an insurance block, and that Penn State defender looks like he would have fallen over if there was a hot fart directed at him, let alone a half-assed block. That was a football play. Nothing other. Poor Ameer.
Nebraska, fumbled and Sam Burtch recovered it, keeping the Huskers' hopes alive and simultaneously redeeming himself for something he didn't need to redeem. A field goal, and a couple of punts later and we are headed to OVERTIME!!!
I had a feeling that great ficken PAT would cost us…let's see what we have in OT.

— Ryan Clark (@ClarkyGuy12) November 24, 2013
Going into OT with Nebraska because Ficken can't make an extra point. Let's do this for the seniors, fellas. #PennState

— Gabriel De León (@gabe_deleon) November 24, 2013
Sam Ficken must feel bad right now, hes the reason this games even going to OT right now.

— gonzo (@Gonzo_Snidez) November 24, 2013
I'd like to remind everyone that we're only in OT because Sam Ficken is a fucktard

— Mike Amann (@MikeAmann) November 24, 2013
MAAAYBE he can redeem himself.
Sam Ficken you are so terrible at your job. how do you miss an extra point and an OT FG? How has PSU not found another kicker?

— Kevin Valdez (@YungFungus) November 24, 2013
Way to go Ficken, missed XP and OT FG to ruin senior day in Happy Valley

— Josh Lutz (@lutzy30) November 24, 2013
well, it has to be said. ficken lost that game. and that's a fact. missed extra point = over time. missed FG in OT = loss. #pennstate

— Sam (@samayer) November 24, 2013
Fucking special teams more like retarded missed extra pt blocked punt nd kickoff return td fuck u ficken

— Brad Ahern (@Aherb32) November 23, 2013
Such grammar.
Fuck u Sam Ficken, first missed a easy ass field goal and now one from 37-yards for the lead

— Marina (@Twixit_N_Mixit) November 24, 2013
Man, you guys are brutal. I'd like to see you get out there and do that.
Or Pat Smith.
Penn State held the Huskers on three downs, forcing a field goal to win. But of course it would not be that easy. Enter, referees.
Pat Smith from 37 yards … FALSE START. Gotta be kidding,.

— Steven M. Sipple (@HuskerExtraSip) November 24, 2013
There is a flag on the play for a false start on Nebraska, negating the field goal and pushing the team back five yards.

— Onward State (@OnwardState) November 24, 2013
The field goal is…..false start! 3rd and 10 for Nebraska ; 42 yards now

— DylanCallaghanCroley (@DylanCC_Philly) November 24, 2013
Such. High hopes.
Take that refs. First you take away a touchdown, then you call a blind false start. And Pat Smith says it's time to go home

— Paul Troupe (@gamin4HIM) November 24, 2013
Nice to see #Huskers kicker Pat Smith on teammates' shoulders. Upright-splitting FB seals 23-20 win. Happy Valley's now in a sad state.#PSU

— Melanie Brandert (@MBrandert) November 24, 2013
Pat Smith you're a babe but GBR whatta win!!!

— Taryn Green (@sTARYNatyourass) November 24, 2013
Pat smith for the win! White boy getting it tonight!

— KAY-JAYYY (@RUSSty_Wheels) November 24, 2013
That was the most painful win I have ever watched. Should have won that game 15 minutes ago. S/O to pat smith for being a hero though. #GBR

— Ty Jensen (@TyMHJensen) November 24, 2013
Pat Smith has ice running through his veins. HUGE KICK. #Huskers win in overtime

— Nate Clouse (@NateClouse) November 24, 2013
That's because it was colder than a witch's titty that night. But I bet he had Natty Ice running through his veins later! WOOOO.
Enter angry  Penn State:
The Nebraska Kicker said "let's go" after he kicked the game winning field goal,games over bro #pickanewline

— Joe DeLuca (@Delucaj3) November 24, 2013
High-quality shit talking here…
anyone else see that asshole Nebraska kicker shush the PSU crowd?

— meg (@MeganWitmer) November 24, 2013
Nebraska kicker runs around field shushing Penn State fan base after making field goal…stay classy, you're a kicker

— Dan Merrell (@coach_dmerrell) November 24, 2013
Not only did Nebraska's kicker shush Happy Valley, but he was wearing an arm sleeve… To kick.

— Tim Shelly (@StevesBiceps) November 24, 2013
WELL IT WAS COLD. WHAT DO YOU EXPECT?
You're a fucking kicker. Don't shush the crowd.

— Justin Dill (@DillJustin) November 24, 2013
Youre a kicker. You dont get to shush the crowd. Shut the fuck up.

— Nick Fronzaglia (@NickFronz) November 24, 2013
Pat Smith. Good kick, but you realize giving the shush finger to a crowd whose team is 6-4 and unranked doesn't make a lot of sense?

— Sam Newmyer (@snewmyer15) November 24, 2013
He wanted to hear the congratulatory praise from his teammates and your stadium was too loud for him to hear.
Dear Nebraska kicker, your an asshole. You can't and won't shush us. Sincerely Penn State fans

— Lauren (@xoxox_laurenn) November 24, 2013
Lol at Nebraska's kicker trying to shush the loudest stadium in the nation.

— Andy Carrier (@ajC_727) November 24, 2013
But he did. And he didn't even HAVE to put his finger to his lips. He put the ball through the uprights, and that's what counted.
Yes, our kicker did just shush the crowd

— Samuel (@samwoodruff1) November 24, 2013
If anything shushed Penn State, it was that whooshing sound of the Ficken's missed field goal only a few minutes earlier. OOO BURN.
Enter Nebraska's week 13 darling: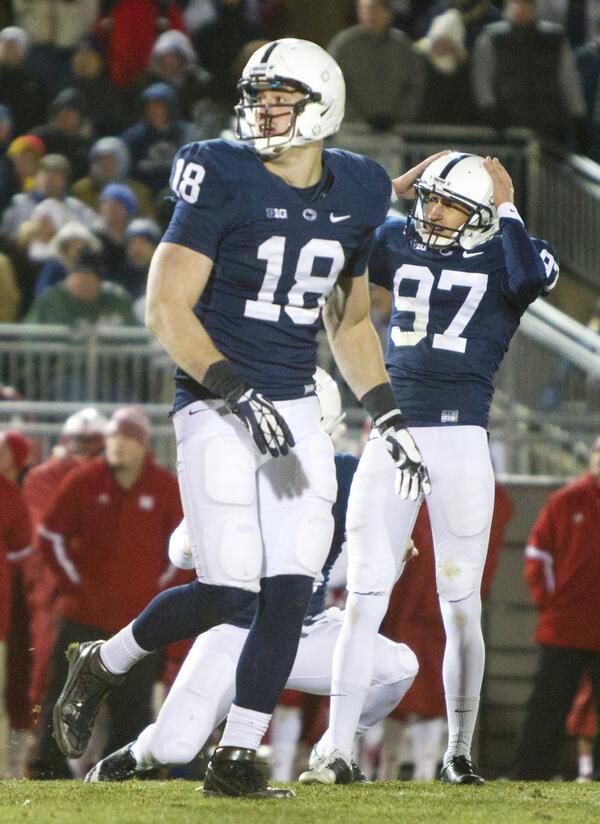 HAHAHA I CRACK MYSELF UP SO HARD. No really, though. Here he is. You can continue to crucify the guy above for all I care.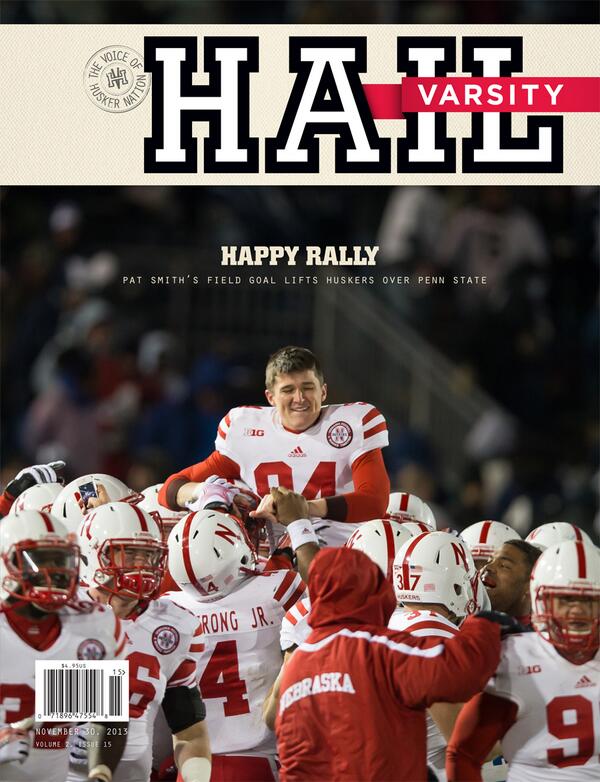 I see ya Pat Smith… I see ya #Nebraska #GBR

— Gabrielle Union (@itsgabrielleu) November 23, 2013
Its official… I love Pat Smith!!! #Nebraska #GBR #huskerpride

— Gabrielle Union (@itsgabrielleu) November 24, 2013
#KickerSwag RT @94psmith: @itsgabrielleu Love you too #GBR

— Gabrielle Union (@itsgabrielleu) November 24, 2013
Atta boy Pat. You keep wooing them ladies!
Follow me on twitter at @blackshirtfresh