Last week, my preview said that the Cornhuskers needed to come out, buttholes blazing, ready to shit on UCLA's chest. We instead shit the bed. I don't know if I'm still hungover from the game or the wedding I was in that night.
I woke up that morning with stars in my eyes and a cloudy head. But despite the pain, I just knew we were going to to win. I was so confident. I didn't mind that I might only watch one half of the game due to groomsmanly duties in preparation of the wedding later on.
I grabbed some water, took my morning doodie, and mentally prepped myself to not rub it into the groom and the 10 other groomsmen (yes, 10) who would be cheering for UCLA because they don't know where Nebraska is.
After UCLA had to punt on their first drive, I felt pretty relieved. It was a good start. But once Nebraska punted on their first drive for the third consecutive game, I was none too pleased. I sat in my bed, grumpy, yet comfortable. Not with the game, but this bed was one of the nicest I've ever been in.
Then Pope Stanley Jean-Baptiste intercepted the great Brett Hundley! Whoa, this INT thing is becoming a trend! I silently – so as not to disturb my fellow groomsman in the other bed – jumped up and positioned myself to watch the glorious replay. Four plays later, the Huskers were on the board 7-0. I raised both my hands in triumph. I sat back down on the cloud bed. I prepared for a win.
Despite UCLA scoring on the next drive, I felt good, and mildly numb due to the booze continuing to course through my veins. On the next possession, the Huskers strung together a 17-play drive (without a turnover! OMG) and Taylor found Quincy in the end zone for their second time that day. 14-3!! I jumped up and had the most raucous and fist-pumping silent  celebration ever. It was my own little solo mosh pit, absent of sound.
The first quarter ended, and I started to prep myself for the day. I woke up the sleepy groomsman and we preened for the nuptials. A UCLA punt, a Nebraska 2nd and 30, a Nebraska punt, and a UCLA downs turnover later…AFRO THUNDER! Taylor found Kenny Bell to go up 21-3. This game is in the bag! What an awesome first half! More moshing! More yelling! Hangover headache!
But the first half wasn't over. Somehow, with only 7:12 left, UCLA managed three drives: two that resulted in missed field goals (WHAT?) and one that resulted in a touchdown. I can handle the touchdown, if it came on maybe 1 of 3 drives, but the other two weren't botched scoring opportunities. A 21-10 lead isn't horrible going into half, usually. But this is Nebraska. If anyone can screw the pooch, it's Nebraska. This time it marked the crumbling of a team. We were gliding smoothly, but UCLA came in to send us heels over head.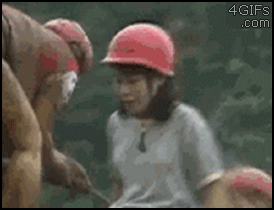 We went in at half with no momentum (it's a thing, I promise you). I hoped it would rejuvenate us, but it didn't. We had nothing to show.
By the time the second half started, we had met with the wedding party for brunch. Beers and food had been provided. It was going to be a good day. Nebraska would win. I'd get a healthy buzz. I'd have a full tummy. Until…
Thirty-eight points. THIRTY-EIGHT EFFING POINTS. UNANSWERED!! There's absolutely no point in trying to break down the breakdown. It's been done a hundred times – maybe thousands – in the days since then. There's nothing more to say.
I watched the game with the 10 other groomsmen, the groom, his father, and his grandfather. His grandfather doesn't even know me and he had no problem talkin' shit! If it wasn't wedding day…
Then, as if my day couldn't get worse while UCLA ran squares around Nebraska, I grabbed one of the catered sandwiches that was brought to our hyper-modern house set in the hills of sunny Santa Barbara, overlooking countless miles of Pacific ocean…and it was mislabeled.
I took a bite of what was supposed to be a turkey-bacon-cheddar panini and instead got a mouthful of some salad stuffed between two slabs of cold wheat bread. I stood there at the edge of the Western world with a fistful of plants and dry bread, gazing over the deep blue, contemplating my life's decisions that led me to such a deplorable misery.
I finished my vegetarian excuse for a sandwich, and tuxed myself up. I folded, unfolded, refolded, unfolded, and refolded my pocket square as the final seconds waned. I held onto hope as I tucked that little, white piece of silk into my jacket pocket, but it was to no avail. The score remained 41-21 when the clock hit zero. The Huskers never scored another point.
I was sad for a minute until I realize that I had a wedding to go to. A WEDDING. I had no time to mourn a loss. There were bigger things at hand. A WEDDING. A wedding where there would be booze and food and love and happy people. I had a friggin' tux on, and I'll be damned…I looked good. I was going to watch a great friend of mine get married to his beautiful bride. Nothing could ruin today, not even a Nebraska loss or a crappy sandwich.
Plus, it was comforting to know that later that night, while the groomsmen and bridesmaids roamed the streets of Santa Barbara, bellies full of wine and champagne, the Bride and Groom went went to the hotel and they sure as shit scored enough to make up for the Huskers' shortcomings.
Footnote: Another couple attending the wedding snuck off to get naughty near the tiger exhibit at the Santa Barbara zoo during the reception. That pretty much makes up for anything bad that ever happened.